The Blacklash Horns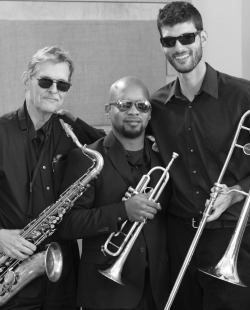 If you like tight horns you're going to love the Blacklash Horns, which is currently comprised of Charles Steadham, Brian Stevens and Schelvin Robinson.

Charles' alter ego is Charlie Blade, and he's a heck of a tenor sax player. Okay, I really want you to pay attention to what I'm saying here...you listening? The man has some serious chops! There wasn't an engagement that went by when I was gigging with him that he didn't play something extraordinarily soulful...not one, and were hundreds of them.

Brian, who's kind of like the new kid on the block, is also an outstanding musician/trombone player who has made huge musical strides in the few years that I've known him. His skill set is such that he's likely to reach super player status in a couple of years - seriously! If you've heard him play you know what I mean.

Schelvin is the newest member of the trio who I don't know so well, but at a minimum you should know that if he's hooked up with Charlie and Brian you know he's got to be good...and he is. But you'd expect nothing less of a a music major set to graduate soon. I heard him play once and was more than overly impressed with his command of the upper register of his instrument. Horn players like that kind of thing in other horn players.

Together these guys play some tight, three part harmonies that are easy on the ear. Be sure to check them out! Spread the word...The Blacklash Horns will be performing at the Christmas Jubilee Jam. All aboard!!!!!!
Join in and write your own page! It's easy to do. How? Simply click here to return to Performers.