Date:

December 12, 2015    

Time:

7 - 9 PM


Place:

Greater Bethel Ame Church (701 SE 43rd Street)

Here's What You Missed!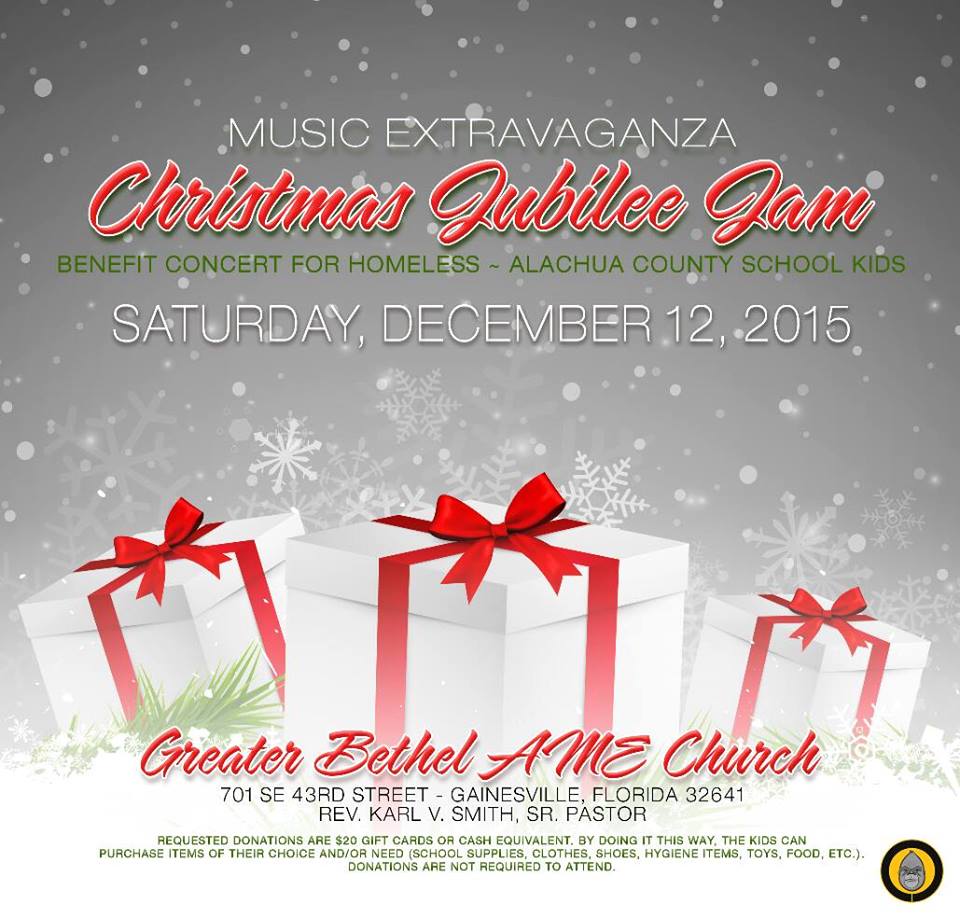 Christmas Jubilee Jam  -  great music, song and dance. Prior year performances have been good, this one was better.

At The Time!

Like last year, all donations will go to benefit homeless school age kids in Alachua County.  In partnership with the Alachua County School Board we hope to make an even bigger difference in the lives of kids during this upcoming Christmas Season.

Time, Date & Location   
Time:           7 PM - 9 PM
Date:            Saturday, December 12, 2015
Location:     Greater Bethel AME Church
Address:      701 SE 43rd Street, Gainesville, FL 32641
Admission is FREE.  That's right!  There's no cost for admission.  However, we're asking every adult to bring one of the following: a $20.00 Gift Card, or Cash Equivalent so that recipients of the donations can buy a gift of their choice; food, clothes, hygiene items, shoes, etc.

Gifts & Donations - all donations will go to homeless school kids in Alachua County. 

Sponsors
Want to be a partner/sponsor?  Call me, Lanard Perry, and let's discuss your interest.

The Story Behind The Event   
During a hot, sweltering day in June 2013 I was thinking about cooler weather...and naturally thought about one of my favorite holidays, Christmas.  it occurred to me that despite my love of Christmas Music and all that goes with it I don't play or performed as much of it as I'd like.
So, I thought why not do something about it?  Thus was born the idea of Christmas Jubilee Jam.  Basically, it's a Christmas Concert featuring favorite Christmas Songs that you sing in church and hear on the radio. Plus, it's a worthy cause because we're doing somthing to benefit kids in our community who will appreciate a merrier Christmas us (you, me and other program attendees and participants). So, please help me spread the word so that we can have a record turnout!

Favorite Christmas Songs  
Now...for some pre-performance fun. Have a favorite song that you'd like to hear on the night of the concert?  Click here and learn how to tell us about it. 

Performers    
Musicians, Singers, Dancers, Choir Directors, etc.  - Please go here and upload 1-4 pictures of yourself and include a brief bio, or at a minimum a few paragraphs about yourself and/or your group. I'll then create a page like this one for you.I'll send you a link when your page goes live. Please share it with your friends, post it on your Facebook Page and ask them to visit it and leave comments...the more that do the faster the word will spread about the concert.  Click here to do it now!

Here's Another 2015 Flyer Used To Promote The Event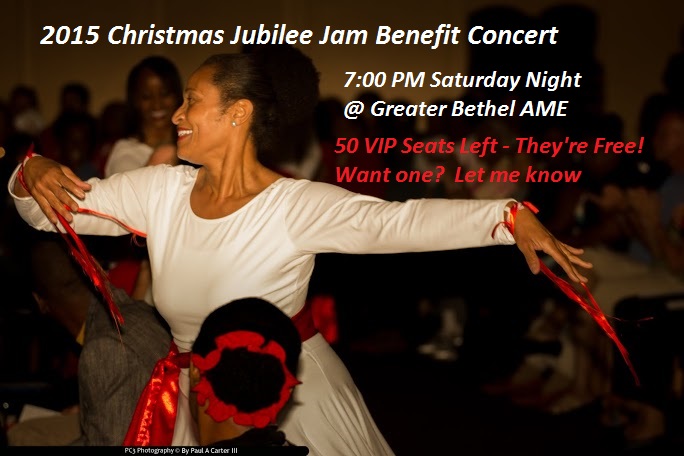 Spread The Word 
Please help me spread the word about our events and encourage your family, friends and church members to donate to this worthy project. 
Text "GMJ" to 33222 To join our mailing list.  GMJ is short for Gospel Meets Jazz, which is the band that helps promote the events. 

Thanks for your help and support of our various events throughout the year.
Appreciatively,
Lanard Perry
Home Page > Past Performances >>

This year's concert will be held in The Historic Thomas Center. Seating is limited, so get your tickets early!
Have a Favorite Christmas Song? Share it with us and we just might perform it. Would you like to sing it, too/
Do You Have Any Favorite Christmas Activities and Traditions
Christmas Jubilee Jam will be a musical celebration of our Lord Jesus Christ; including music and worship through song and dance.
All Christmas Jubilee Jam Donations will go to benefit the young men in the Project Manhood Mentoring Program in Alachua County, FL. their holidays brighter.
Chrismas Jubilee Jam Benefit Concert Archive
Contact Me
Christmas Jubilee Tickets